Ricoh GR Digital II – hands on review
by Johnus Maximus
If you are looking for a 'point and shoot' digital camera, then you may want to take a look at the Ricoh GR Digital II. Compact, well built and extremely customisable, this successor to the Ricoh GR Digital has plenty to offer photography enthusiasts, but priced a little over £300 it's perhaps slightly less appropriate for people like me who don't know their EV's from their ISO's.
Packaged in neat, black eco-friendly packaging the Ricoh GR Digital II also comes with a rechargeable battery and charger, mini USB and AV cable, wrist strap, some Caplio imaging software and thankfully a printed instruction manual. The camera itself looks great, it's quite small in size, a little over 4 inches wide, 2 inches tall and 1 inch deep, and with the exception of a few labels on the buttons the camera is completely black.
The camera is equipped with a 28mm wide angle lens, which along with the 10 megapixel CCD, is capable of taking some really clear and detailed photos. Sadly the GR Digital II has no optical zoom, the loss of this is worsened by the 4x digital zoom, which doesn't live up to the rest of the cameras capability.
Also not present is a viewfinder. To be honest I didn't really mind it's absence, after all there is a whopping 2 (and a bit) inch LCD screen on the cameras rear which is extremely clear and viewable even in bright sunlight. If you can't live without a viewfinder though a separate one can be attached to the hot shoe on top of the camera.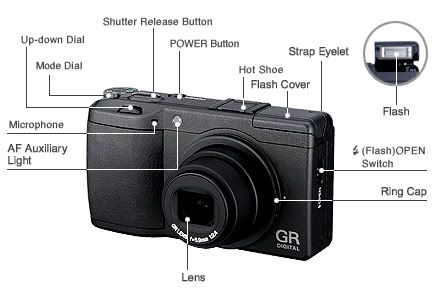 The Ricoh GR Digital II – compact, clever and robust.
There are a few available shooting modes, including an Automatic mode, which will do it's best to select the best shutter speed and aperture value for you, if you prefer control over shutter speed or aperture value then you can use the Manual, Program Shift or Aperture Priority modes, as these let you determine the levels yourself.
If you can decide on a set of custom settings that you will use a lot, the "My1" and "My2" modes allow you to store these settings and access them at any time. Additionally there is an AVI recording mode, which lets you film video in 640×480 or 320×240. Not having the usual range of modes that a lot of cameras on the market have (i.e. – sports, landscape, night) might upset some users, but opting to allow people a more sophisticated control of the camera also has its benefits.
The camera feels really sturdy but not too heavy and it powers up pretty fast. The large screen is really great as a viewfinder, and also for viewing your photo after it's taken, it even turns the image if you turn the camera on its side. The menu screens are clear and legible, and it has a really helpful electronic level display which tells you if your image is tilted or is straight.

The Ricoh GR Digital II has a stylish rear which is easy to grip.
If you need to use the flash, it is discretely tucked away into the camera's aluminium alloy body and can be opened quickly and easily. Be sure to play around and become comfortable with the various options available, as on occasion the wrong choice can give unexpected results and flood your image with too much light.
As well as a variety of shooting options, you also have a large degree in flexibility as to the size and type of image you take. In addition to normal JPEG images, you also have the choice of saving images in their RAW format, thereby improving the level of image deterioration. Granted this will increase the memory requirement for the image, so it goes without saying that you should have an SD card ready to put in the camera from the start.
In addition to the flash control, the other main buttons on the rear also control the a very detailed macro mode, a customisable function button which has many options (switching to black and white mode was my favourite) and also a special scene mode control which offers skew correction and text capture.

Yet more features packed into this small, well designed camera.
Ricoh's decision to include a printed instruction manual is an excellent idea, as most companies only supply an electronic copy. Despite having 200+ pages it's quite small in size, neatly fitting into the majority of pockets and bags you might have. It is an essential companion when using this camera, as there are so many features you can play around with that it can get a bit daunting at times – the manual is your salvation.
So that about wraps up what I have to say about the camera, unfortunately I didn't manage to get an array of shots that suitably demonstrate the fineries of the GR Digital II, what I did get though was a bunch of great shots of my friends to stick on Facebook. If you're interested in seeing the sort of shots this camera is truly capable of then pop over to the official product page and check them out.
As I mentioned before I don't think this camera would be suitable for "normal" users, by that I mean people who just want to point and shoot and not worry about too much tweaking of settings. However, for those with a good or developing knowledge of photography then this camera is ideal, it can be an excellent tool in the right hands. Prices of course vary from retailer to retailer, but you should be looking at paying somewhere in the region of £300 to £350 for this sleek little gadget.