WaterField Designs 13″ Portrait Folio Laptop Sleeve Reviewed
One of the greatest joys of a new device – I'm not kidding – is the excuse to try a new WaterField Designs case. It doesn't happen often. I've been working with WaterField for almost 13 years (roughly half of WaterField's 25 years of honing their craft) and in that time I've written about precisely four of their products.
The San Francisco based designer and manufacturer of bags and cases was born out of the creation of the perfect messenger bag – the Cargo – a product that Gary, a former bicycle messenger, saw a desire for among business commuters.
While a couple of the WaterField items I've tested have regrettably been lost to the annals of history, I still have my 11-year-old PlayStation Vita case which stands as a reference for their quality and consistency over time. It also serves to give me a good idea of the durability and longevity to expect. That's to say I'm confident a WaterField bag will outlast whatever tech you might deign to carry with it.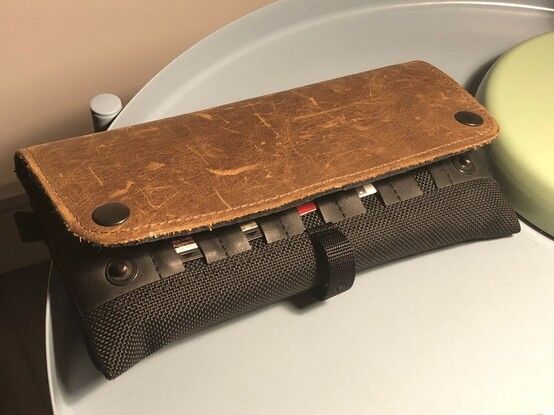 The latest device – a 13" M2 MacBook Air – happened to coincide with the launch of WaterField's Folio Laptop sleeve. This new sleeve fits Apple's new 15" MacBook Air along with their 14" and 16" MacBook Pros.
The WaterField Folio Laptop sleeve is a neoprene-lined laptop sleeve with a twist- it includes a folio-style front pouch with space for stationery, your phone, and other small additions to your every-day-carry you might need to access quickly. This is in addition to the main compartment- which fits your choice of MacBook Air or Pro- and a mesh rear pocket for cables, docks and things you need to tote around but may not need access to in a pinch. WaterField pitch the folio squarely at the professional market- touting a compact case to gather all the things you might need for an in-person meeting- but it's also remarkably useful for keeping a MacBook protected and stored together with its slew of necessary accessories. I've found mine useful for toting the laptop, MagSafe cable and USB Type-C dock between the office and wherever else I might lounge with a laptop.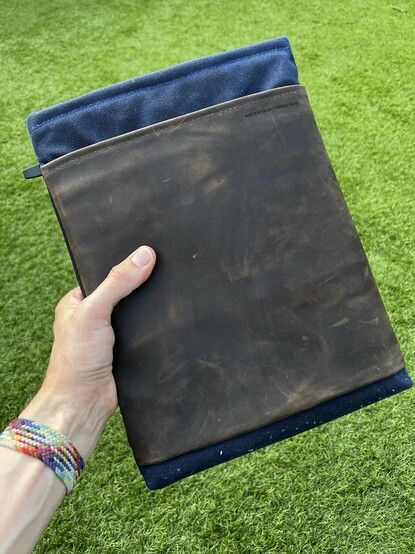 The folio's construction exudes typical WaterField quality and shares design cues with both the Steam Deck case I tested in 2022 (almost exactly a year ago at time of writing) and the PS Vita case I tested in 2012. In fact WaterField sleeve style cases can be traced- via Archive.org's archive of their website – as far back as 2000, where you can find the SleeveCase which is later pictured alongside a very late-90s/early-2000s Sony VAIO. That's quite some legacy!
WaterField's signature blend of waxed canvas (or Nylon if you prefer black) and full-grain leather has remained a constant even from these very early years. It's clear why. The two tone contrast makes for an uncomplicated design that balances form and function elegantly and lends WaterField products – no matter what they might be for – an air of professionalism on top of their explicit minimalism.
The Folio is available in three colour/material combinations – Ballistic Nylon / Black Leather, Brown Canvas / Chocolate Leather and Blue Canvas / Chocolate Leather. I picked out the 13" MacBook Air folio in Blue Canvas / Chocolate Leather, banking that the blue would be a close match for – or at least complementary to – Apple's Midnight colourway. The gamble paid off, and this unintended combo looks stunning.
I also opted for a portrait style folio. That is, it opens along the short edge allowing a laptop to be inserted ports-up, exposing the MagSafe and two USB Type-C ports for charging. There are several additional options for attaching D-rings and choosing a strap, letting you turn the folio sleeve into a diminutive messenger bag. In my case I would be using an additional bag for outdoor carry, so I opted for the sleeve only.
On both portrait and landscape versions WaterField have eschewed a zipper for a hidden, magnetic closure. This has three benefits. First and foremost it can be opened silently, letting you retrieve your laptop during a meeting (or, in my case, while a baby is sleeping) without piercing the silence with spontaneous zipper noises. A quick test of the rear zipper. The second benefit is that there's no zipper mechanism to scratch your laptop. With the MacBook Air's coloured coating coming off if you look at it funny, this could be particularly important. In most cases snagging on a zipper shouldn't be a problem, but there's no better peace of mind than it being impossible. Finally; it's simple. A magnetic clasp is never going to snag or stick, and you'll never wrestle to get it open.
Even without the clasp, however, the factory fit of the Folio Laptop Sleeve is snug enough that the 13" MacBook Air – which, to be fair, is quite lightweight – does not slip out when the case is inverted. This snugness has its downsides, though, which I'll get to in just a moment. The main pocket is padded with a generous layer of neoprene, that squishy stuff that's been in everything forever, which should absorb minor knocks and bumps and also protect your laptop from the pointy bits of its accessories. At a glance the corner protection looks minimal, but the edges of the top opening are surprisingly rigid and the radius of a MacBook's corners mean the bottom of the case has a little give at the edges to absorb shocks. I'm certainly not stepping up to bowl my MacBook and see how well it fares, but I'm certainly a lot more confident toting it around in the pouch than the absolute chaos of my backpack.
The chocolate leather accent doubles as a front-pocket, a single deep pocket with four inner pockets. The middle pocket is a perfect fit for an iPhone 13 Pro, and the leather of the main pocket handily conceals it from prying eyes- lest you be worried about anyone fishing in your folio. Two pen-size pockets join it on the left, and a narrow pocket- perfect for a small USB Type-C hub- is on the right. My Anker PowerExpand+ 7-in-1 fits especially snugly here. The snag? The front pocket and its inner pockets are easy to get into when a laptop isn't in the main pouch, but get rather difficult when a laptop is inserted. In fact anything not in one of the inner pockets and poking up within grasping distance is more or less out of reach.
The reach pouch suffers from the same problem. This is a zip-secured, mesh pouch which mirrors the footprint of the front pocket onto the back of the Folio Laptop Sleeve. It has an edge to edge zipper that beautifully curves over the edge of the sleeve and has a locking pull so it can't work its way loose. Again with a laptop in the main pouch it's rather hard to reach a hand into here to retrieve any errant cables. An L-shaped zipper releasing a peel-back mesh flap for full access could have solved this. If you plan on relying upon the folio to carry a lightning cable, you may want to loop it tight and tuck it into a pen pocket.
I've a strong suspicion that this is less of an issue on the landscape version, in portrait you forgo the extra accessible pocket space in favour of access to the laptops ports. That's fine.
Most of the laptop sleeve's construction is cleverly concealed behind inscrutable, folded seams. What little there is to see is functional but could be construed as decorative. At the top of the case, two crisp, colour-matched stitch lines race across the top of the brown leather and blue canvas pockets. The quest for a minimalist appearance, and to let the patina of the leather speak for itself as the sleeve ages, is abundantly clear. So, too, is the care and attention to detail that has gone into making this case.
Overall WaterField's Folio Laptop Sleeve is exactly what I expected from the well-seasoned bag and pouch purveyors. It's carefully considered to be quiet, visually clean, functional and compact. A minimalist method for managing the mobility of your MacBook as you meander mindlessly through a myriad Monday morning meetings. It's available directly from WaterField starting at $129.