Jabra Engage 55 DECT Headset Reviewed
Occasionally I toe the line, stepping out of my consumer tech bubble to test something that's most emphatically business oriented. The Jabra Engage 55 is one such product. Its performance, quality and design choices very clearly signal a product that's intended for a demanding environment and a discerning customer. My environment isn't demanding, but I had my own motives for wanting to try the Engage 55 – DECT.
What I wanted out of DECT-based – rather than the traditional Bluetooth of wireless headphones – wireless was two things; range, and improved bandwidth. I got the former, but I was sorely disappointed by the lack of the latter.
Is DECT the "high quality stereo and microphone at the same time" holy grail?
So that I don't bury the lede. No, it's not. I've mentioned in the past that I'm frustrated by Bluetooth's inability to deliver high quality stereo audio alongside a microphone. All of the Bluetooth headsets I've tested will degrade to awfully tinny audio, suitable only for voice, when using them for bi-directional communication. This is fine for regular voice calls, but quite frustrating for voice comms during video games.
Of course the Engage 55 would be an absurd headset to attempt gaming with, but the audio quality still matters to me on regular calls- such that I often use a stand-alone microphone on a boom in conjunction with the wired headphones for audio.
The long-range, no-fuss DECT wireless offered by Jabra's Engage 55 is exceptionally convenient, hassle-free and easy to set-up. But it doesn't offer any more voice bandwidth than a traditional Bluetooth headset.
What it does offer, though, is the very same thing that attracted me to 8bitdo's 2.4GHz game controller over their Bluetooth offering- absolutely foolproof plug and play compatibility with anything that has a USB support and supports a basic USB headset. Engage 55 comes with a little pigtail USB dongle. A round puck with an indicator LED ring attached to a short length of cable with a svelte USB Type-A port on the end. (It's also available with a type-C port if you're so inclined.) This dongle is seen by a host computer as just a regular, run of the mill USB headset. It works readily with every computer or device I've been able to plug it into, and doesn't require the Bluetooth pairing dance to switch between systems.
For office settings DECT is intended to offer better performance in high noise environments. That's signal noise, not sound noise. The range is certainly better, too, it's quoted at 150 metres line of sight and I can walk through my house and into the garden without losing the connection. I'm notoriously something of a busybody when I'm on voice calls, and will tend to wander into the kitchen and do chores or make coffee. Engage 55 is excellent for this.
What about the audio quality?
Staggering. The Engage 55 are tiny little monsters that punch way over their weight. For something designed to be a call centre headset, ostensibly used for low quality voice audio all day, every day, Jabra have cut no corners making sure they still excel for entertainment. This is, of course, so long as you don't accidentally set your system settings to use the Engage 55's microphone, which will immediately change the audio from excellent to long distance telephone hold music. With the headphones tamed, however, I have taken great pleasure in listening to music or X Files episodes or music from X Files episodes to keep me company in the office throughout the day.
Even for my lacklustre ear(s) the Engage 55 volume is loud enough that I can enjoy music quite comfortably. Even at maximum volume there's also surprisingly little leakage. These are closed-back headphones and designed for usage where you may not want voice calls to be overheard (though, people will always be able to hear you… I suppose) so this stands to reason.
Comfort and fit?
As you might expect from a headset meant to be worn for eight hours a day, Engage 55 has comfort absolutely nailed. I don't tend to use on-ear headphones because they slip off my ears, Engage 55 would be no exception if they weren't so lightweight. And lightweight they are- Jabra have left nothing superfluous in their design and construction, paring back to something that's so refined it looks – at a glance – cheap and feels cheap too. It's amazing how weight is so inexorably linked to the impression of quality in consumer devices that we'll occasionally find bits of metal glued into things to make them feel luxurious. Jabra don't need such tricks. Despite an abundance of plastic all of the joints and moving parts of the Engage 55 feel solid, though this is let down a little by the microphone boom which can slip if the headphones are shaken. Don't nod vigorously, I guess.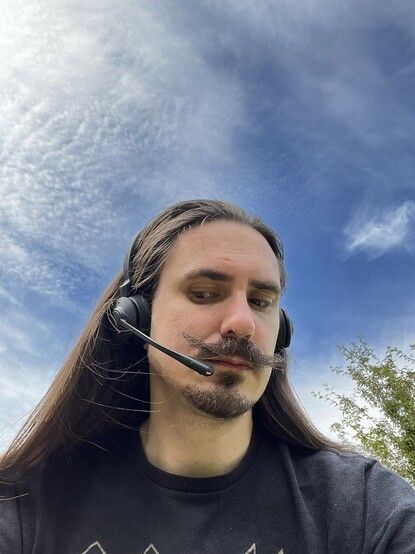 Since these are small, with tiny little joints they're also prone to snagging hair. Keep your hair tied up if you don't want to be separating yourself from your headset on a regular basis.
As is typical of Jabra's communication headsets, there are LEDs to indicate whether you're actively on a call- even one on the very tippy tip of the microphone boom. These can even be turned off via the software if you don't like them.
It's hard, as a critic of flashy consumer hardware, to reconcile my desire for substance with the pragmatic and functional minimalism of a product intended for professional use. But the Engage 55 have some tricks up their sleeve that betray their exacting standards –
Replaceable battery?
I didn't see it coming and discovered it quite by accident – yes, I habitually pull things apart if I can – but Engage 55 has a user-replaceable battery that's not only removable without tools but signposted by little arrows that direct you through the steps to access it. After you remove the right ear-cup (the one with the mic boom on it) little tabs with arrows numbered 1 and 2 will guide you through removing a plastic-backed, 290mAh battery.
The plastic shell is unfortunate, making it require a compatible replacement direct from Jabra, but the mere fact you can so trivially access the battery is a marvel in itself. A braver tinkerer than I could probably unglue the battery package itself from its plastic casing and replace it with a third party component. I'm not going there. A replacement battery costs about £30. Even the ear-cup has little arrows telling you which way is up for when you put it back together. The attention to detail here is astonishing.
Controls
There's precious little in the way of controls on Jabra's Engage 55. You won't find music transport here, and that's okay- they're not really for music listening. What you will find, however, is buttons that are intuitively positioned and easy to feel. The volume up and down are on the right cup (the one with the microphone boom. Which does sometimes get in the way of the buttons) and are marked with a little raised dimple so it's easy to feel where you need to press.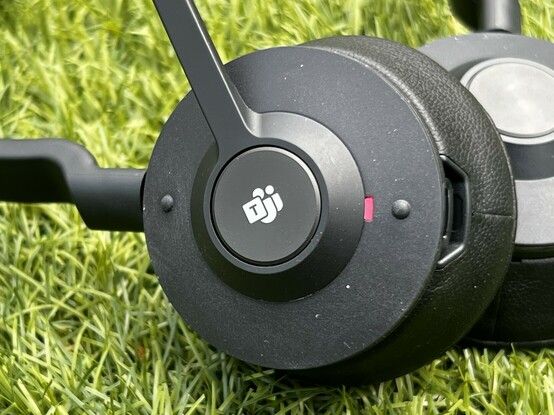 The power/pairing/call button is right in the middle of the same cup, so it's always easy to find.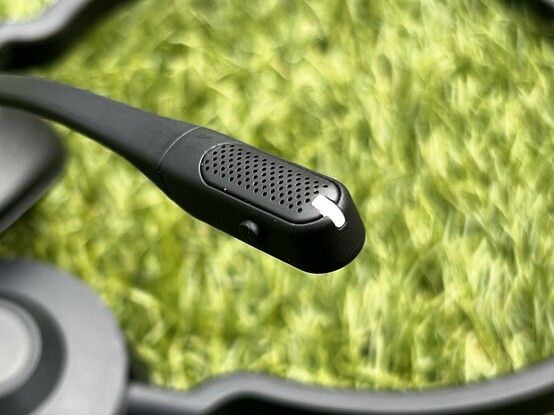 The mute button, a small work of genius, is right on the tip of the microphone, so it's easy to find.
Charging stand
The Engage 55's charging stand is an optional extra, and I'd recommend it although I'm disappointed that it does not function as a DECT dongle, or at least have a downstream port to house the one supplied. This has been a previous complaint of mine with Jabra headsets- I don't want to take up two of my precious USB ports! If you're thinking "ha,that's fine I'll just plug it into a USB wall adapter, I don't need a data port at all" then you'll need to bring your own wall-wart. The stand does not ship with one!
Perhaps a saving grace- I can't find any evidence that this particular stand requires a data connection to function. It doesn't appear in Jabra's software, can't take firmware updates, and may just be a dumb pass-through with a very conveniently placed microUSB connector for your headset.
Oh, yeah, did I mention that the charging cradle has a USB micro-B connector on it that mates with the USB micro-B port on the headset? You'd be forgiven for thinking this is absolute lunacy, but Jabra have monkeyed with the tolerances of the connector to make sure it has zero insertion and release force. The headset just pops right on and off with no effort whatsoever. The attention to detail knows no limits. It's still a little weird to me that Jabra didn't opt for metal pads and spring loaded contacts here, but judging by the care they've put into everything else there was a very good reason for sticking with micro-B.
A little disappointingly the headphones don't spring to life when lifted off the charging stand. You must manually turn them on. It's not a world-ending inconvenience, but given the price of the charging stand it would have been nice to get some extra smarts.
Software
You will, invariably, have to interact with Jabra's desktop software in order to upgrade the firmware on both your headset and the dongle. It's fortunate, then, that their software is not only not too bad but I might even stetch to saying it's excellent. Since I tested the Evolve 2 65 they've shifted to a cleaner design with big, bold options, well documented menus and just generally the same care and attention they show in their hardware. It is genuinely the only hardware software-configurator I can recall that I don't hate.
If the excellent software design wasn't enough, Jabra consistently link to relatively detailed release notes covering fixes and – sometimes – even whole new features.
The elephant in the room
You probably knew there was a catch coming, and may already know or have peeked at the price of the Engage 55. The unit tested retails for a whopping, eye-watering £372. Without the charging stand that drops to £308.40, and a mono version can be had for £240. Since Engage 55 is not Bluetooth, it's tied to your desk and can't do double-duty as an out-and-about pair of headphones. The microphone boom would make you look silly, anyway.
If price is no object- say you're a luxury business with a professional call-center and you want to spare no expense on hardware- then the high cost of entry is worth it for Jabra's keen eye for detail, replaceable battery and top-notch software. If you're still coughing up your cup of tea at those figures… I don't blame you. I wouldn't buy these, but boy howdy do I enjoy using 'em!
As with previous headsets and headphones, Jabra's box and inner packaging is all cardboard and all recyclable. I don't know – really – how big of a difference this makes, but it's nice to have something I don't feel totally terrible about throwing away. Of course I still have the box to hand… it's too nice!