News Roundup – 12th July to 27th July
Hey hey, it's time for another haphazard, weeks late recap of the tech news that's graced my inbox.
I don't really have anything insightful to say in order to kick this one off, so in the immortal words of every YouTuber ever- let's just jump right into it.
Limited Run Games to release new Jurassic Park Classic Games Collection
For the longest time I thought there was some Megadrive exclusive Jurassic Park game, but it turns out I was just thinking of the extraordinarily frustrating Lion King. This collection will hark back to the 8-bit and 16-bit era with a bunch of NES, Game Boy and SNES titles that will help you forget the film sequels ever existed. Seriously, though, do you remember the waterfall scene outro in the original film? I thought "oh wow, that was a wild ride, I hope they make a sequel." In retrospect I regret that thought. Where was I? Oh, well Limited Run Games offers you the unique chance to pre-order a bunch of videogames that have been out for decades. I know you love pre-orders no matter how many times you regret the alpha quality garbage you eventually get. Seriously, why am I even covering this? Just download the ROMs.
And stop buying Atari stuff, too. Atari doesn't exist in any meaningful sense anymore, you're being hoodwinked by a dispassionate corporate sock-puppet who bought the name and uses it to exploit your nostalgia. Sheesh I guess their arcade revival PCBs are at least pretty cool… damn, did I accidentally a news? Agh, curse you Notari!
Sony Launches their new A6700 camera
It looks cool, has some… specifications… and a price. I don't know much about cameras and the EOS M3 I convinced myself I needed is now half smashed and mounted to my desk as a glorified webcam. But hey… if you were somehow into cameras and didn't know this existed- you do now!
PM Studios & Panthea's Let's School
I'm still bitter they didn't send me a review code. If you liked Theme Hospital the pitch is that this is basically Theme Hospital for schools. If that sounds appealing to you, you can find Let's School over on Steam. There's even a demo, so you've got no excuse for not at least giving it a shot.
PowerA's Wired Sparkle Controller for Xbox S/X and Windows 10/11
It's wired. It's sparkly. It's $38. If these things speak to you, check it out on PowerA's website. What, are you expecting images from me now? Getouttaheeere.
PLAYMOBIL expand their Eco range
PLAYMOBIL's Wiltopia range – which I wrote about in September 2022 sees a couple of new entrants from our favourite island paradise… Australia.
PLAYMOBIL have also expanded their use of recycled materials and bio-plastics to some completely re-imagined sets in their Country range. I've already taken a look at the farm and tractor.
It's a small step toward more sustainable toys, but it's being taken by a toy giant so I think it's the kind of move that could really matter.
Hestia Launch the Vaonis
Wait, or is it Vaonis launching the Hestia? Anyway, a telescope brand I've never heard of but apparently make some screamingly cool (think the gun turrets from Portal if they were semi-automated telescopes) products have launched a mobile-phone telescopic lens box On Kickstarter. It promises to turn your non-astro-photography suitable smartphone into a cost effective first foray into the hobby. They are also perhaps the first company to schedule a Kickstarter around an immutable, unmissable … astronomical? … event. That's a bold move considering just how (not) on schedule most of these things go.
Either way I'm super interested in where Vaonis go with this, how competent the hardware is, how easy it is to use or maybe accidentally fry your phone camera with. Taking photos of big space stuff is cool, and it being more accessible is cooler. Way more so than Billionaires competing to shoot more garbage up there, anyway.
Welsh Prifysgol Bangor University Making Mixed-reality Fish
The fairly middling but interesting ocean exploration game Ocean Rift for is set to be expanded with mixed reality. This should, hopefully, bring its educational content into a format a little more forgiving for those of us who aren't quite completely VR compatible. It'll likely coincide with the launch of the Quest 3, where mixed-reality is a much, much bigger deal.
WaterField Announce the Air Porter Backpack
Do you air travel? Do you lots of stuff? WaterField are here to help you min-max your carry-on with the most cuboid backpack ever. Jokes aside WaterField really know their stuff when it comes to bags. I don't air. Though I do stuff. It looks good to me.
So what about me?
I guess it's newsworthy that I finally got my hands on some solar panels from EcoFlow. Albeit I'm not sure they quite intended for them to come my way just yet.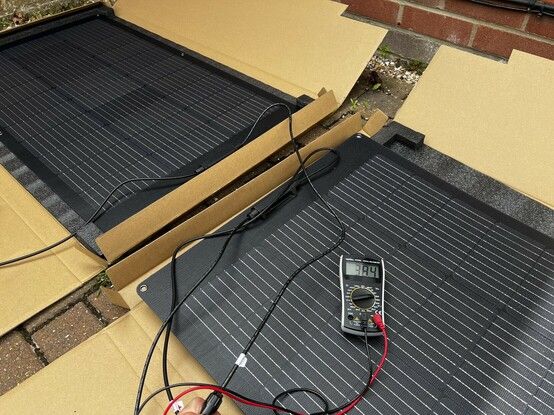 One way or another they're stuck up on my roof now, generating a small amount of electricity from our frustratingly timed cloudy, rainy, meh weather. They total 400W capacity and I've seen about 330W peak even in the last day or so. This has allowed me to tease out the DELTA 2 Max battery to run my office for about three days. Today, however, the sun was not playing ball and I had a lot of shortfall, pulling about 90Wh from the battery over just my work day. It's clear from this short test alone that 800W of capacity might be a better bet- fortunately the DELTA 2 Max has a spare solar connector and I have plenty of roof space. We'll see!
Todays open-source shoutout goes to Larry Bank whose PNGDec embedded PNG decoded has allowed me to build out PNG support for PicoGraphics. That's right, you can now- or at least when I get 'round to tagging a release- use palette-based or full-colour PNG images to add icons and such to your PicoGraphics driven display projects. As always I implore you to check out his GitHub and consider throwing him a dollar or two. It's Larry's JPEG decoder that brought us JPEG support, and he continues to be a force for fast, optimised and very useful microcontroller libraries and a stand-out chap besides.
I'm reaching out a lot of tendrils back into the world of tech so expect to see more cool stuff as I catch up with my own ambitions and find the time to write about it.