Halo 3: ODST – Xbox 360 review
Review by Johnus Maximus
Just in case you missed the hype-train, there's a new first person shooter in town and it goes by the name of Halo 3: ODST. What started life as a small expansion pack, soon became a larger experience that could not be confined to the online marketplace.
Developed by Bungie and published exclusively for Xbox 360 by Microsoft Game Studios, this is a first person shooter that sees you play as members of an elite military unit, unravelling a noir-esque mystery and taking part in high intensity set pieces.
With the release of Halo 3 in 2007, gamers thought they were finally able to put the story to rest, it was the concluding part in the epically successful first-person shooter series. Going back and expanding upon that universe was always going to be a challenge, with so many fans and critics to please. Rather than reprise the adventures of Master Chief, a seven foot tall genetically engineered super soldier, Bungie decided to tell a rather more human tale.
The characters in this game are a squad of specialised marine paratroopers, the ODST, also known affectionately for the work they do as Helljumpers. Midway through the alien assault on Earth that takes place in Halo 2, one such squad is requisitioned to perform a special task – boarding a massive enemy spaceship which is stationed above New Mombasa, one of the major industrial cities of Earths future.
Unfortunately for them, before their drop pods are able to hit their target, the enemy ship jumps into Slipspace, causing a shockwave and EMP pulse that devastate the city, whilst also knocking the ODST troopers off course. You see all this through the eyes of the Helljumpers latest recruit, aptly named "The Rookie", until the shockwave causes him to black out, only to awake six hours later, alone, in the dark and with no way of communicating with the team.

What caused this devastation in New Mombasa?
After the obligatory "look up, look down" training session, you burst out from your pod and plummet to the city streets below. The immediate sensation that you are in pain is less than subtle, the screen flares red and the rookie starts panting, whilst an audible heart monitor beeps at a mile a minute. Learning that you are vulnerable is an essential part in surviving the Covenant infested streets of New Mombasa by yourself.
Well, not technically by yourself. Monitoring your movement around the city is Vergil (aka the superintendant), an artificial intelligence construct, normally designed to micromanage the infrastructure of the city, but having seen the events of the last six hours unfold, he'll be giving you a gentle nudge in the right direction to help you discover the truth behind your squad mates disappearances.
Interaction with Vergil takes place in unusual ways, he can't talk to you directly, and so to call your attention he makes cash machines spit money at you, manipulates messages on roadside billboards and activates car alarms when you get near areas of attention. As well as audio logs revealing a subplot about Virgil and a girl named Sadie, the main purpose of the AI's help is to bring you to the major areas of attention – the "clues" which trigger playable flashbacks that reveal the fate of the squad.

Grunts are easy prey, but where there are grunts, there are brutes.
There are six clues in all, and the flashbacks can be tackled in any order depending on the method you choose to explore the city streets, but the game does try to push you to them in a linear order. If you do follow the suggested route, the first flashback lets you play as the team leader, Gunnery Sergeant Edward Buck (whose voice and likeness are of that Firefly's Nathan Fillion).
Having a human face and voice to play as and interact with really changes the tone of Halo, in fact as a fan of the series I'm actually inclined to say I like the campaign in ODST more than any of the other games. And no, it's not because I have a secret man-crush on Captain Mal from Firefly, there is just a sense of camaraderie within the ODST squad that you just don't get when playing as Master Chief.
Over the course of the game, you'll put together the pieces of the puzzle and get to play as the other squad members – Mickey, Dutch and Romeo – each of whom has their own speciality and personality. Mickey is the mechanic expert, Dutch is the demolition expert and Romeo is the sniper. Sadly you don't get to play as the shovel-jawed love interest Veronica Dare, who is voiced by Battlestar Galactica's Tricia Helfer, because she has a secret mission to carry out that is part of the mystery behind the events of the day.

Using the VISR, spotting enemies is made simple.
Each flashback scene distils the essence of what is great about Halo by providing you with the opportunity to kick ass and take names, contrasting the sections of atmospheric tension that encapsulate the rookies existence in New Mombasa. One thing worth mentioning though is the difficulty level. If you are a seasoned first person shooter player, then be sure to play on one of the highest difficulty settings, a run through on easy or normal is over too quickly, and you don't get the feeling of vulnerability that is intended.
As well as the change in their physiology, the ODST stand apart from the Spartans in a number of other ways. Firstly, their standard issue weaponry is fantastic, a pistol with scope that allows long range stealthy headshots and a silenced submachine gun with a real kick. Their head-up-display (called VISR) allows you to activate a low light enhancement mode, which illuminates your field of vision whilst also displaying tactical outlines around objects – enemies get a red outline, allies green, weapons blue and superintendent clues yellow.
Unlike Spartans, they don't have a motion tracker, but enemy movements are shown on the map screen, which allows you to plan routes and bypass potential traps. You cannot dual-wield any of the weaponry, but fortunately you can carry turreted weapons with no limitations. And although you're able to use covenant weaponry such as the gravity hammer and needler, you will not be able to make use of any equipment such as the bubble shield, regenerator and power drainer.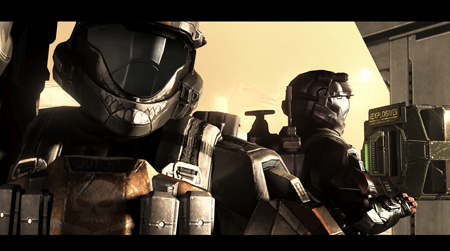 Dutch and Mickey preparing to blow up a bridge.
Once you've found all the clues and completed all the flashbacks, you embark on one final mission that is the epitome of a Halo experience, complete with tunnel combat, highway chase sequences and of course, driving a great big tank. After it's all over, you can come back at any time to the Mombasa streets to look for more audio logs, or you can replay the missions.
I played the campaign through by myself at first, and I definitely feel that was the way the game was intended, but so as not to upset people who enjoy a co-operative experience, there is the option to play four player co-op (with up to two players per console). No longer being a solitary soldier makes the environment less harsh, and will definitely help those wishing to gain the rewards of completing the game on its hardest difficulty setting.
The co-operative experience extends to the new Firefight mode, which is a survival mode that sees you face wave after wave of covenant foes, akin to the Gears of War 2 "horde mode". While there is a massive range of enemies in Gears, Halo does not have as much variety, so to spice up the game you are given a number of handicaps each round that have varying effects, from reducing the ammunition available to making the enemies resistant to bullets.

Taking on a brute chieftain is no easy feat, even with help.
With ten available missions across a range of environments, Firefight is a true test of your capability to perform as part of a team, as you have a limited bank of lives between the team, once they've all run out it's game over. There are some associated achievements with Firefight mode, but most importantly there is also one of the Vidmaster achievements, which form part of Bungies "road to recon".
Because of the hardware demands that the AI system has, you can only play campaign and Firefight in pre-arranged matches with people on your friends list, rather than joining random members of the Halo community via Bungies matchmaking process, meaning that you will have to make sure you know people with the game to get the most out of it. Also, to its detriment, there is no "drop-in, drop-out" system, meaning if one player leaves the game is over for everyone.
Also bundled with ODST is the Halo 3 mythic multiplayer disc, which contains the complete Halo 3 multiplayer experience that some people may have missed. All the maps are included for matchmaking, as well as the ability to play custom games, construct level designs in Forge mode, and playback saved films and take screenshots in the theatre mode. While it's a complete experience in itself, the fact many people will already have Halo 3 means a lot of this is duplicating an experience that is already two years old.
The recommended retail price for Halo 3: ODST is less than its predecessors, and is good value for an enjoyable game crafted by Bungie out of a love for their fans. If you've never played a Halo game then I think you now have an opportunity to be welcomed into that world with open arms (and less chance of being teabagged). For veteran players of the series, a word of caution – you will complete this game quickly – but, there's a good chance you will love it despite that fact.
Halo 3: ODST scores four and half stars out of five, hoorah.