Kioxia Exceria Plus 1Tb microSD Review
The Kioxia Exceria Plus microSD card is a UHS-I SD card intended for digital photography/videography or use in Android platforms that's equally well suited for use in the Steam Deck. The 1Tb version reviewed here still seems to be unobtainium, with one listing on Amazon.co.uk for an eye-watering £366 and no sign of it on Amazon.com. I'm hoping this is a short-term issue, and that Kioxia's 1Tb offering joins its contemporaries at a competitive price. The more competition, the better!
At long last! Kioxia Exceria Plus 1Tb for maximum Steam Deck ? pic.twitter.com/QIFbxIrHXP

— Phil Howard (@Gadgetoid) October 10, 2022
The Kioxia Exceria Plus 1Tb claims an A1 application performance rating, offers a formatted capacity of 906.2GB on Steam Deck and delivers consistent download, gaming and file copying performance.
Benchmarks
The Steam Deck is just a PC, so what better way to benchmark than KDiskMark in Desktop Mode. You can install KDiskMark via Discover and play along at home.
When running a benchmark for comparison, make sure you have quit Steam, or at the very least that no downloads or updates are occurring. Any other IO on the disk you're testing will significantly impact the results.
Here are mine for the @KIOXIAAmerica Exceria Plus 1Tb, about 37% full. pic.twitter.com/pROCwjpnVQ

— Phil Howard (@Gadgetoid) October 10, 2022
I tested with the default settings in KDiskMark, targeting "/run/media/mmcblk0p1" (the standard path for a microSD card formatted on Deck)
IOPS
MP/s
Read
Write
Read
Write
SEQ1M Q8T1
89.95
47.05
92.11
48.18
SEQ1M Q1T1
87.22
45.72
89.31
46.81
RND4K Q32T1
3,537.56
596.02
14.15
2.38
RND4K Q1T1
2,350.33
547.27
9.40
2.19
The raw IOPS figures surpass the A1 baseline for the card, with random read performance closing on the minimum for A2: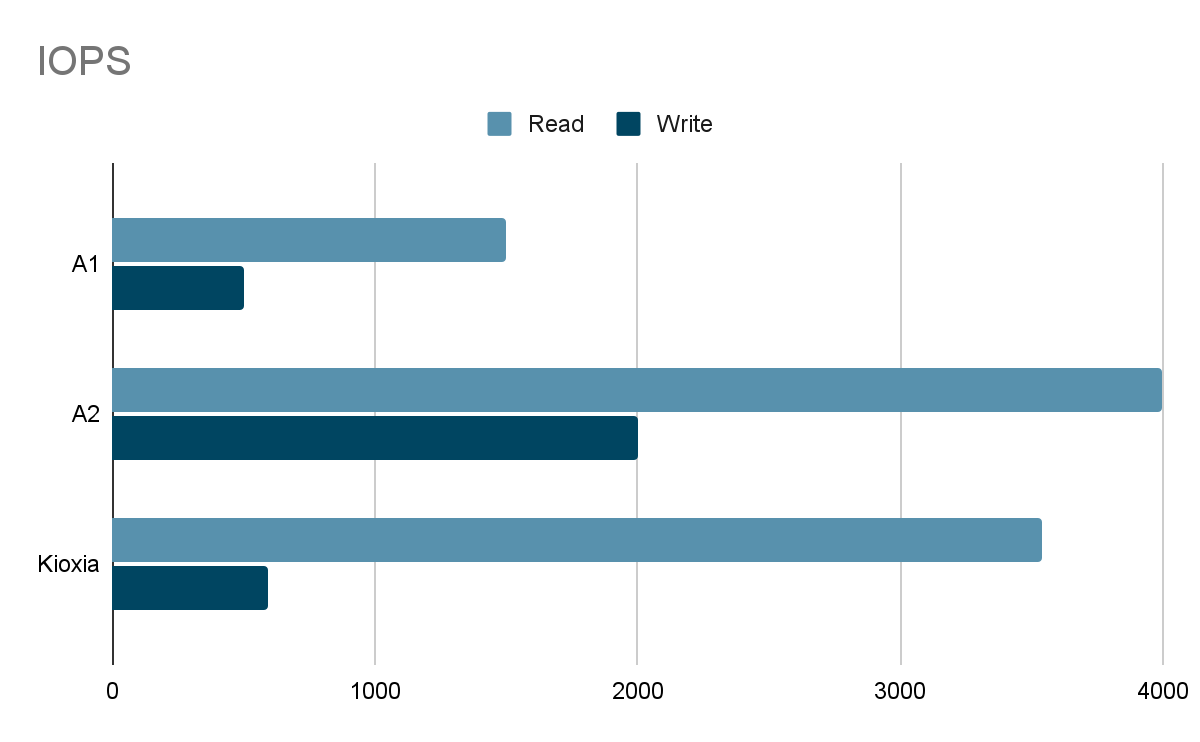 You'll find that activities such as installing, moving, loading and playing most PC games tend toward larger, sequential accesses so Application Performance ratings don't necessarily help here. If you plan to use your SD card for – for example – storing source files or booting alternate operating systems, however, you might want to consider an A2 class card.
I moved the Kioxia Exceria Plus 1Tb over to a Raspberry Pi to see just how it fared booting a Linux operating system. I used a USB 3.0 UHS-I SD card reader to prepare it. Writing and verifying a full Raspberry Pi OS image was quick, and I took a moment to run KDiskMark again from my Star Lite laptop-
KDiskMark results, using a Star Lite MK4 and an Anker USB 3.0 UHS-I card reader:
IOPS
MP/s
Read
Write
Read
Write
SEQ1M Q8T1
86.80
68.95
88.88
70.63
SEQ1M Q1T1
76.09
69.91
77.92
71.59
RND4K Q32T1
2,972.20
563.16
11.89
2.25
RND4K Q1T1
2,394.84
579.66
9.58
2.32
This resulted in slightly slower read performance, but significantly better sequential write performance than any of my Steam Deck tests had uncovered, and roughly similar random write. My laptop- believe it or not- is rather less powerful than the Steam Deck.
1Tb of storage. Smaller than a keyboard key ? pic.twitter.com/kb7Kzbg4Jo

— Phil Howard (@Gadgetoid) November 10, 2022
Naturally I expected the Raspberry Pi to be slower again, since it doesn't have the benefit of a UHS-I interface. In this case I would expect the random IO will still be roughly the same, but sequential IO will take a hit and that's exactly what I saw.
KDiskMark results, running directly on the Raspberry Pi 400:
IOPS
MP/s
Read
Write
Read
Write
SEQ1M Q8T1
41.25
28.76
42.24
29.45
SEQ1M Q1T1
40.14
27.63
41.10
28.29
RND4K Q32T1
3,270.98
600.71
13.08
2.40
RND4K Q1T1
2,826.26
579.06
11.30
2.32
It's clear that in a Linux system – such as the Raspberry Pi – with no direct UHS-I support you'll still get admirable random IO performance. In the case of the Raspberry Pi, it's uncomplicated and rather more direct SD card interface will no-doubt play a part in squeezing that little extra of the Kioxia Exceria Plus's random performance. This translates to a generally responsive system and – indeed – installing dependencies, updating my system, compiling KDiskMark from source and running the tests all went incredibly smoothly.
Game Load Times
Back in the Steam Deck for some gaming tests. The good news is that load times are not affected greatly by the switch to microSD. While modern consoles have set their ambitions on continuously streaming worlds, and have deployed the hardware to back that, PC games can't make the same assumption.
The following table details launch times from hitting "Play" to being able to interact with the fully loaded game. All cut-scenes and title screens are skipped where possible. Times were measured by capturing video from the Steam Deck and comparing time indexes between launch and character interaction. This was repeated four times and averaged.
Game launch times on Steam Deck, internal SSD vs microSD
| | Internal (512GB SSD) | microSD Card |
| --- | --- | --- |
| Elden Ring | 40s | 43s |
| Forza Horizon 5 | 90s | 96s |
Due to issues moving games between onboard storage and microSD this process was arduous and I've got some work to do to expand upon these results. Bear with me!
Conclusion
Kioxia's Exceria Plus 1Tb is a capacious monster of a microSD card that slightly exceeds its A1 ratings. Performance varies highly by use case, but is broadly well within expectations. It's a great choice for Steam Deck, and outside of reaching for a stop-watch I haven't noticed any difference between the internal SSD and the microSD when it comes to launch times across the games that I play. I am, however, aware that running from a microSD card can make a big difference in some disk intensive games. I'd strongly recommend a Steam Deck with an SSD for those, and the extra microSD for everything else.
It's also well suited to the Raspberry Pi, or other single-board computers that rely on microSD.
The only downside? The price and availability remains sketchy, with it being at least 150% the price of competing, A2-rated cards. In the event that it becomes easier, and cheaper, to buy it's absolutely worth considering.