JSAUX OmniCase 2 MP03 Reviewed
JSAUX have followed up their OmniCase with a KickStarter campaign for its successor, the OmniCase 2, making aesthetic and quality of life refinements to their little USB Type-C treasure trove.
The OmniCase is a hybrid USB Type-C dock/hardshell case, which includes a magnetic top lid that houses a small selection of cables and adapters, and your choice of microSD, SD and microSIM cards.
They sent me the MP03 version, with a single HDMI port and a clean front-edge that butts up against the optional Steam Deck stand base without hiding any ports.
The MP03 is functionally similar to the OmniCase Pro I reviewed back in November 2022, but it's received a visual overhaul, a little extra thickness and a port shuffle.
Most notably JSAUX have moved the upstream USB Type-C port from the side to the back, this is excellent. It's always janky and weird to have it on the side, and it makes the original OmniCase sometimes feel more like a cheap pigtail USB Type-C hub than a dock.
In part to make up for the relocation of the upstream port, and perhaps also to loop more freely over to the Steam Deck's top USB Type-C port, the supplied USB Type-C to Type-C has had its length bumped from around 23cm up to 35cm. This means the dock can tuck further away from your laptop, or tuck underneath a laptop riser for a clean and orderly desk setup. It also means the USB Type-C to Lightning cable has been dropped to make space, but all of JSAUX Kickstarter units claim to come with a USB Type-C to Lightning adapter. My review unit did not.
It did, however, come with a 90-degree USB Type-C to Type-C adapter. This little L-shaped widget helps the cable turn a tight corner, and is very useful for escaping the dock's USB Type-C cable backwards out of a laptop's ports.
There's also a USB Type-C to microB adapter, which I remain convinced is of limited utility but when you're not using the C to C cable with the dock you can use this and/or the USB Type-C to Type-C adapter to solve a variety of in-the-field cabling problems.
Another striking change in the MP03 version is that there are NO ports along the front edge. This is a bit of a shame since the front edge is where you'd normally want to insert SD cards or USB storage, or 3.5mm headphones. Stuff that you either want accessible or closer to maximise cable length. It's no coincidence, then, that the MP04- with less focus on being a Steam Deck companion- has the microSD and full-sized SD card slots on the front as they should be.
It's a worthwhile sacrifice, though, the optional, hefty aluminium Steam Deck stand is very, very nice, offering a little U-shaped recess with rubber padding to hold the deck itself, and a magnetic footprint at the back for the OmniCase to fit
While the OmniCase does latch magnetically to the stand, it doesn't self locate or align. You'll need to drop it into place and do a little dock shuffle to align it nicely. This is a shame, since self locating magnetics scream quality.
OmniCase 2 MP03 is best suited for systems that support only one external display. This includes the M2 MacBook Air – which it works beautifully with I'm happy to report – and the Steam Deck. For a dock designed around travel, it's more than a little ironic that it feels so at home sitting permanently on a desktop. Perhaps that's because it's quite big. The original OmniCase was already quite large due to its magnetic lid and internal cable storage, but the OmniCase 2 bumps this up even more, including gubbin storage both in the top of the dock and in the lid. The result is a dock that quite handily out-bulks every single other travel dock I've tested. But it's also the only such travel dock that has a defined place for its accessories. It's a tiny little USB Type-C treasure chest.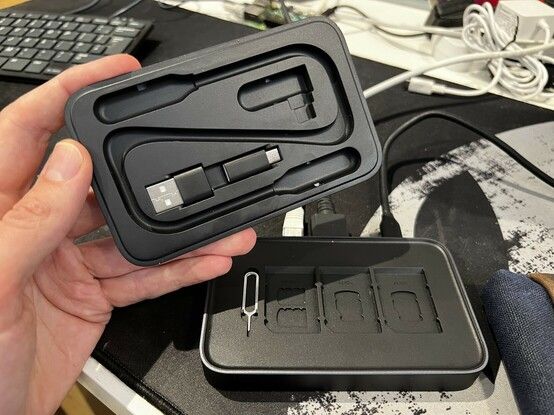 If you've got the bag space and the discipline to keep the OmniCase united with its various accessories – and whatever SD cards or SIM cards you might tuck inside – then it's a great looking travel dock that you will no-doubt find very useful. Since I have smaller docks, it's instead become a permanent fixture upon my test desk where the card storage helps keep little Raspberry Pi microSD cards from wandering off.
The 2 isn't a revolutionary step up from the original – if you can grab the OmniCase on sale, it's still a great contender – but the design tweaks and extra capacity for SD cards – particularly in my line of work – are very welcome.
I'm late to the party with this review, so you've got only a few days left to grab the OmniCase 2 on KickStarter. There's no real rush to buy, though, I'd expect the OmniCase 2 to be on general sale pretty soon after the campaign finishes. The campaign seems to be more a sort of bulk-buy and publicity endeavour than a real need to fund R&D- that should be evident from me having a final, fully functional unit to test before it's even finished!