UGREEN 145W Portable Battery Review
Sometimes it takes a little context to see where there's room for improvement. UGREEN's take on a large format portable battery – we're talking half a kilo of on the go juice here – prioritises different details to Anker's and its sleek form factor and slightly lighter weight make it the more portable of the two.
I got my hands on UGREEN's 145W, 25000mAH power bank. With two USB Type-C ports and a single USB Type-C it's tit-for-tat with its contemporaries. It has the same problem as their wall charger, however, and most batteries to be fair- despite USB Type C's flexibility there always seems to be an imbalance between what port can do what. In this case there's a nominated 100W USB Type-C port that you must use for powering devices like laptops. There's no tactile bump or other means to feel which port is which and the rotational symmetry of the battery doesn't much help. If you're hunting around in the dark – or through impaired vision – for the right port than you'll no-doubt find this frustrating. The single power/status button on the battery is recessed on one side, however, and the 100W port is located on the top at the opposite side to this.
Adopting a five cell configuration with 5000mAh, N21700CG-50 cells for a total of 25,000mAh, UGREEN's battery is wider, flatter and over 100g lighter than their popular rival. This affords something that's just a little more portable, pocketable and easier to flip into an internal backpack pocket.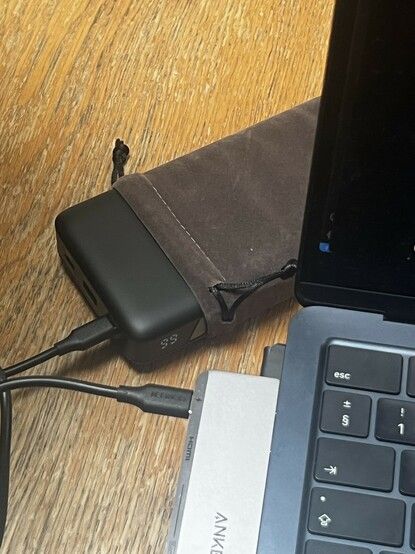 In fact, tucking the battery and a couple of cables (C to C and C to Lightning) into the supplied pouch makes for a concise and tidy travel companion. Even if it's still a whole half kilogram of battery. While it's lighter, shedding around 120 grams does not make it feel light. It's still closing on almost half the weight of an M2 MacBook Air, and concentrating that weight into a smaller footprint gives it a definite heft. You'll want to be careful where it ends up in your bag, since it'll make short work of any fragile contents it comes into contact with.
This slightly more compact form-factor comes at a cost. UGREEN have traded the lavish and excessive detailed status display of Anker's bulky battery for a simple, seven-segment, three-digit style display that serves to convey both charge status and – I'm pretty sure – estimated charge time. It's still very functional, but sometimes USB Type-C is weird and it's nice to have more detailed feedback about what on earth your device is doing.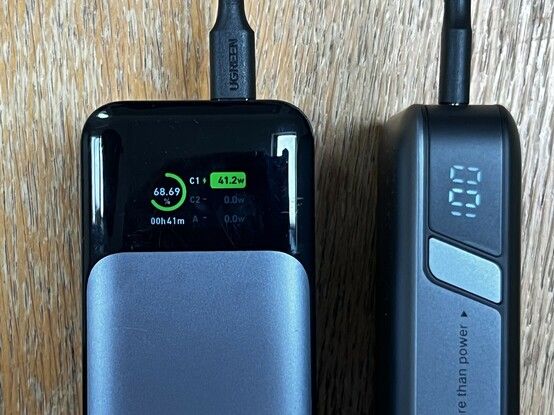 Nonetheless this display is concealed behind the plastic outer shell of the battery, keeping it well protected and giving it a nice invisible-when-off touch that helps UGREEN's choice of matte finishes edge out the competition for aesthetic appeal. In short, it looks good. But if I'd just said that, this review would just read like a bunch of dry statements.
Overall UGREEN's 145W power bank is lighter, slimmer and more convenient on the go. UGREEN haven't wasted time on frills like torches or detailed status information, and their design is – hey, it has purple USB ports – distinctly more appealing than most other batteries on the market. This may be largely due to the clean, matte finish across both the black and silver halves out the outer shell. It doesn't pick up fingerprints and looks as premium as you'd want from a – and now here's the catch – battery costing £140.
Yep. It's pricy, though it's a little over 2.5x the price of UGREEN's 10K, MagSafe battery. There may be a small premium for high wattage laptop charging in there- so if you're looking to charge just a phone or two you could be better off with multiple, smaller chargers you can use in rotation. For laptops, though, it's indispensable and should give a MacBook Air M2 an extra 40% charge- which Apple's silicon will go a long way with.
So far I've taken it out and about to London (to Hyper Japan, used it to power my MacBook Air in a pinch and keep it handy as a means to charge when I just don't want to trail a cable across the room. I don't get out much, and I have found plenty of uses for it- if you're a little more outgoing and have laptops and tablets that need a little extra boost on the go, you might find it's well worth the price. At time of writing, UGREEN also have a whopping £50 off and that £89.99 is a lot more palatable.
If you're camping for multiple days, however, this is just way, way too small. You'd be surprised how much power a humble phone will eat if you give it half a chance. A little extra will get you a full-blown, hulking, power station that wont be as portable but will at least see you through a day or two. UGREEN seem to be entering this market too, but they've not got anything on the small end- yet!