UGREEN Nexode 2-in-1 Desktop Charger Review
As GaN-fuelled miniaturisation of chargers slowly seeps it's way into everything, the market is slowly finding more imaginative uses than "your wall charger, but smaller." I'm absolutely here for this trend.
UGREEN's Nexode 100W 2-in-1 desktop charger is one such device. Bringing the charger away from the wall – by means of a figure eight (or C7) cable – and fusing it with wireless charging for phones, earbuds and more.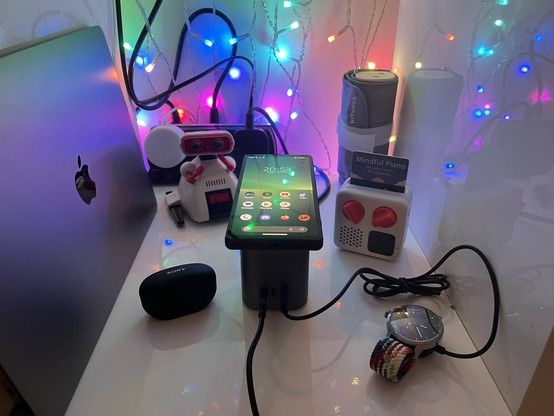 In retrospect it makes a lot of sense to include additional ports in the base of what is effectively a MagSafe desktop charger, I don't know why I haven't seen it done until now. The two USB Type-C ports and one USB A that join the wireless charging make very effective use of your precious wall sockets. They are, however, plagued by the almost ubiquitous pitfalls of combined USB chargers.
While the USB C ports are capable of delivering up to 100W each, the USB A capable of 22.5W and wireless capable of 15W they will not deliver this power simultaneously. Indeed UGREEN's have created an embarrassment of diagrams listing all the practical limitations based on one, two, three, or four devices. You'll only need to know three things, though:
When charging your phone wirelessly at 15W, your laptop will be limited to 65W.
If you want 100W from either of the USB Type-C ports you can't use any other port at the same time.
If you use all of the ports they'll be limited to 45W and 25W for the USB Type-C ports, 10W for the USB A and 15W for the wireless charger.
If your brain has switched off and your eyes glazed over at these wattage numbers the rule of thumb is simple- don't try to charge more than one additional device if you're running your laptop full-pelt from the Nexode. In most cases – depending on your laptop, of course – 45W is more than enough and both of our MacBooks are content with this.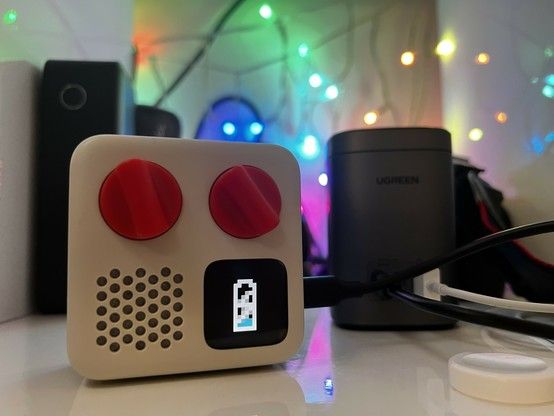 While this array of caveats is dizzying, and I'd love to see a charger that runs all ports, full-whack, all the time with no compromises, the reality of charging a mix of household objects means you're unlikely to bump into any limitations. At home we typically have one of our watch chargers – Apple Watch or Withings ScanWatch – plugged into the USB A port. Charge a phone by sitting it on the wireless charger. And charge portable batteries or the occasional laptop (while not in use) from one of the Type-C ports. In this way we treat the ports more as a way to keep a cable plugged in and ready to use than as something expected to deliver all the power all the time.
These caveats aside, UGREEN's Nexode desktop charger is wonderfully convenient. With a regular, small plug it doesn't get in the way of adjacent sockets. With the ports mounted on the front it's easy to swap out cables when you need. And with three ports and wireless charging in one device it means I can chuck all the random adapters usually adorning our Charging Shelf into a box and forget about them.
The wireless charger borrows from Anker's MagGo, offering a tilting head that can be tilted forwards for iPhones that will attach magnetically and benefit from a desktop-style stand in portrait or landscape. Neither of us have MagSafe-compatible cases, though, so we're forever peeling the cases off our phones to charge them securely.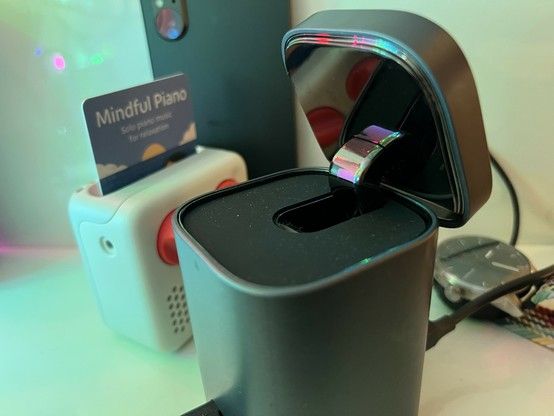 If you need to charge an Android phone, headphones, Yoto or similar you can tilt it back to provide a level surface you can rest or balance your device on top of. This depends somewhat upon the wireless charger in your device being somewhere around the centre of gravity, though it's worked for me with the POCO 4X and Sony Xperia 5 V.
The elephant in the room is the price. With a whopping £179.99 RRP – albeit currently on sale at Amazon for £135 – it's not exactly keen. That said- it's pretty much on a par with Anker's bizarre Cube charging station for price, but delivers more power from its USB-C port when charging four devices than Anker's Cube can even muster from its supplied 30W adapter.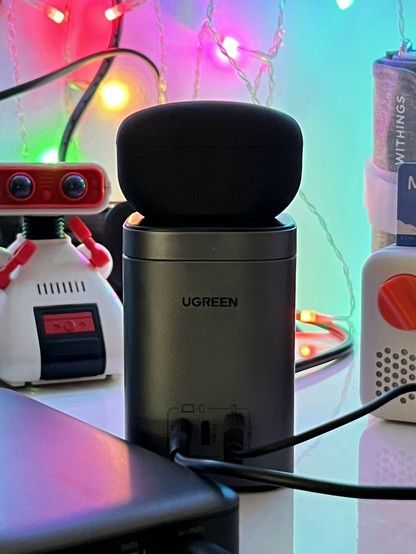 The Nexode 2-in-1 desktop charger delivers on UGREENs promise of cleaning up your desktop and making charging ports easily accessible. While it suffers the same caveats as almost-every-other-charger, 45W from the USB-C port while charging three other devices is still pretty darn respectable.
If you've got a desk setup it's a great, flexible alternative to buying an additional power adapter for your laptop (y'know so you can keep the other one packed in your bag for travel.) If you don't have a permanent desk setup, it makes a great home charging hub and calling it "2 in 1" is really underselling its utility.