Tiger Woods PGA Tour 09 – Xbox 360
Review by Johnus Maximus
The name synonymous with golfing mastery returns once again to endorse the latest edition in the long running EA Sports PGA Tour series. As those fair weather days are becoming rarer, playing with Tiger and his fellow golfers is probably your best chance of a dry game.
Developed by EA Tiburon and published by EA Sports, the game was released on August 29th for Xbox 360, PS3, PS2, PSP and Wii (that's right, no PC release!). The game offers a well polished, easy to access experience, with a multitude of playing options that will appeal to anyone with even a modicum of interest in golf.
If you haven't seen the promotional videos for this game you may not be aware that Tiger Woods is not only the world's number one golfer, but he can putt Rubix Cubes and also walk on water – all of which makes perfect sense for him being the face of this game. As with most EA Sports titles, this is the latest annual revision in the series, so the majority of features and playing styles will be familiar to owners of the previous games, but for new players (like myself) the game is extremely approachable and has a very easy learning curve.
Upon loading the game initiates a video tutorial to explain to you the dynamic skills feature, which is a really great part of the game. When you first create a golfer you have to perform a series of tests for Hank Haney (Tiger Woods' coach), and are graded in your ability in four areas – power, accuracy, short game and putting. After each round of golf played your skills will increase or decrease depending on your performance, so you get a realistic view on how you are performing.
Taking you under his wing, Hank Haney will look at your performance in the last round and offer personalised coaching exercises to help improve your skills, these can be skipped, but they do help you learn the finer aspects of planning and executing your shots. Rather than just having standard drills on a training course, what the game does is actually pick some of the holes from the last round that you didn't do so well on and play the exercises on those holes, so that you can relate better to the exercise.
You don't have to make a player straight away though, as the first option on the menu (similarly constructed as other EA Sports titles) is "Play Now", selecting this option puts you straight into a round of golf as Tiger Woods, so you can first hand experience the game as it is played by a pro. After a few choice words from commentators Kelly Tilghman and Sam Torrance and a fly-by course description, you're ready to play your first hole.

Tiger, why so serious? Think of a happy place
Controlling your golfer is simple, and you are given two choices in the way you strike the ball, the traditional three clicks of the A-button method where a bar slides across the screen and the timing of your button press determines the power and accuracy of the shot, or the stick swing, which uses the left analogue stick, pulling down initiates backswing and how fast you push forward will determine the power of your shot.
To accompany the stick swing is a real time swing indicator, which will show if you are hitting the ball straight or not. Pressing the B-button moves the camera to the potential landing spot of your ball and you can use the d-pad to position your shot. The left and right buffers are be used to control draw or fade, and should you need a little power boost, mashing the A-button during your swing will provide this.
Of the two control types I actually preferred using the stick swing, it felt more natural than the 3 click A-button method. What I also liked was that if you pay attention to the swing indicator you can find out if you are hitting the ball with any directional bias and use the Club Tuner feature to compensate for this. As this is a new feature to the Tiger Woods series, the tutorial video explains how to calibrate your clubs tendencies and adjust for bias, as well as an array of other options. I found that after a small tweak in here I was hitting my shots so much better.
As well as Tiger and a few unlockable fictional golfers there are 17 male professional golfers in the game, including Ian Poulter, Darren Clarke, Luke Donald and Colin Montgomerie, and 6 female professional golfers, including Natalie Gulbis and Se Ri Pak. Combine that star studded line-up with the large selection of well known courses – St Andrews, Carnoustie, Wentworth and Pebble Beachto name a few, and you have got plenty of choice when playing one of the traditional game modes.

Braiiiinssss…. ahem, what I meant was "it's all in the hips"
Accessible from the main menu is a large selection of game modes, starting with the traditional types – Stroke Play, Match Play, Skins and Battle Golf, these are all playable for up to 4 players. There are also some mini-games available for up to 2 players, including putting and driving challenges as well as target practise and capture the flag.
If no-one wants to sit and play with you in your home, then you can always take the game onto Xbox Live, where there are loads of people playing and plenty of options to ensure your experience is enjoyable. You can also try out the new simultaneous play feature, which makes the online multiplayer faster as everyone plays at once, the other players ball trails appear as coloured lines on your screen.
Probably the most fun aspect of this game is creating your own golfer. The promotional slogan for this game is "everyone plays, anyone can win" and with the vast array of customisation options, given enough fiddling about and fine tuning you can literally put yourself in the game, no matter what you look like. Giant sloping head – check! Eyes that are spaced too far apart – check! Crazy fish lips – check! There's only one drawback, which is that you can't give your player glasses – you have to buy sunglasses in the pro shop.
If you have an Xbox Live Vision Camera (I don't) then you can take a picture of your face from the front and side, and with a little adjustment the game can do the bulk of the facial construction for you. This feature is also available via the EA Sports World site, where you can upload your picture, then next time you sign into Live just download it. Sounds easy, but the EA servers just would not let me get my pictures – I tried on and off unsuccessfully for a few hours, until finally giving up and just making my face myself.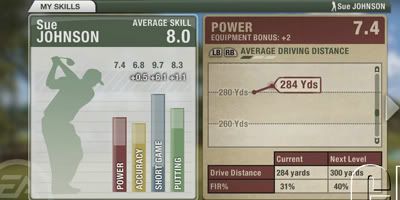 The dynamic skill system shows your four areas of aptitude
Once you have made your golfer and shown Hank your basic skills, you have a host of options to choose from in your golfing career. There is the PGA Tour Season Mode in which you play in the various tournaments that occur over the golfing year, trying to improve your skills and win big money. Although you will probably start off coming close to last place, after a few of the tournaments you'll get the hang of things, couple that with the coaching help from Hank and you'll be giving the likes of Furyk and Woods a run for their money.
If you want to develop your golfer further, but take time away from the hectic tour life you can opt to play some of the Tiger Challenges, a series of short games, normal stroke play and assorted mini-games which ultimately lead to a special golfer challenges, upon completion you are awarded extra courses, extra items to buy in the Pro Shop, and most importantly, extra money – there's a whole lot of accessories and clubs to purchase, you can even get extra animations for your golfers swings, celebrations and stroppy fits.
Also present on the course are the EA Sports Gamernet Challenges, another of the excellent new features. When you're taking your tee shot, if someone has posted a challenge of a long drive, beating this will award you EA Gamernet points, which will increase your position on the global leaderboards and count towards some of the games achievements. These challenges are not just for long drives, but can be for approach shots and putting too, and if you find that you've performed particularly well on a hole you can post your own for other players to test their mettle against.
No matter which mode you select, the game offers plenty to do, and even though the only interest I have in golf is the movie Happy Gilmore I found myself becoming slowly addicted to this game. I'd definitely rate it highly as there was very little about it that I didn't like – the Game Face download problems, the generic people in the crowd and the uninteresting commentary from Kelly were probably the only things that I didn't like.
If you like golf games then you'll love Tiger Woods 09, it really is well presented and full of features. If you've never tried a golf game before and are looking for a sports title with a slightly more relaxed pace than something like football or boxing then you can't go wrong with this, it's easy to pick up and play.
Tiger Woods PGA Tour 09 scores four and a half albatrosses out of five.