Guitar Hero Metallica – Xbox 360
Review by Johnus Maximus
Just when you thought it was safe to put down your plastic periphery, Neversoft and Activision are back with another instalment of the iconic Guitar Hero series. This time they've paired up with Metallica to punch you right between the eyes with a fist full of rock!
Released May 29th and available for the 360, PS3, PS2 and Wii, the game can be played with just one guitar or for the full band experience play with 2 guitars, drums and mic. Despite my fading love for rhythm gaming, this title embodies the best aspects of the genre and gets a resounding set of mano cornuta.
For a band that has been around for as many years as I've been alive and still be popular and successful is no mean feat. They've been making records and touring for almost three decades, sold over 100 million records worldwide and served as an inspiration for a huge amount of bands. To call Metallica legends is an understatement.
Surprisingly, given the bands rock and roll status, the Guitar Hero games only began featuring songs by Metallica from Guitar Hero 3, with One being chosen as one of the games later, harder tracks. Since then they've featured again, in both Rock Band games and on the Guitar Hero World Tour game, which also had the entire Death Magnetic album available as downloadable content.

The in-game likeness of James Hetfield, vocalist and guitarist.
Last year Activision released Guitar Hero Aerosmith, which used the same game principle as Guitar Hero 3, but interspersed with a "Behind the Music"-esque documentary and also featured a selection of the bands greatest hits, songs from bands that inspired them and also venues which mirrored those the band had played in. Not wanting to stray too far into the depths of innovation, Guitar Hero Metallica offers a similar premise, but using the expanded features of Guitar Hero World Tour as its base.
There are a total of 49 songs, 28 of which are by Metallica. I'm sure whoever had creative control over the selection had a very difficult task, given the bands many hits every fan is going to have at least one of their favourites that didn't quite make the cut (although my favourite The Unforgiven made it!). Notable venues from the bands touring history are also represented in the game – Tushino Airfield, Hammersmith Apollo and Donington Park to name a few.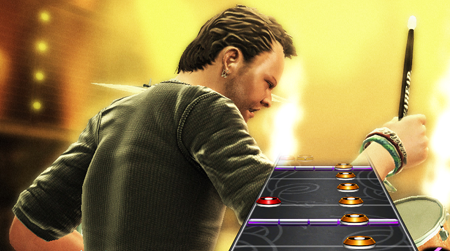 The in-game likeness of Lars Ulrich, drummer.
The additional music is made up from a selection of bands inspired and loved by Metallica, ranging from the sublime Tuesdays Gone by Lynyrd Skynyrd to the finger blistering Beautiful Mourning by Machine Head. It has to be said that the line up is probably the best of any of the games in the series and playing through all of the songs is no mean feat, some are extremely long and some just baffle me as to how you can make your fingers move fast enough!
As the game is based on the World Tour engine, you are able to play all of the roles that make up the band – lead and bass guitar, drums and vocals. The current Metallica line-up (Hetfield, Ulrich, Hammet and Trujillo) all spent a lot of time in motion capture to ensure authenticity of their stage presence. Whether you and your friends will be competent enough to pull off their moves is another question entirely, but with online and offline multiplayer there is plenty of chance to practice.

The pyrotechnic displays add to the impressiveness of each song.
In terms of the gameplay there aren't any elements new to the series, the typical Career, Quick Play and Battle Modes are all present. In the Career mode, as well as playing Metallica you also get to be part of a fictional warm-up act who follow the band on each tour. This warm-up act plays the non-Metallica songs and your player model can be customised and adorned with unlockable clothing and guitars, with the extra facility to build your own guitar by selecting custom body shapes, fretboards and pickups.
I was pleased that the tiers were set up to spread the difficulty so that you aren't overwhelmed at the beginning of the game by some of the bands more aggressive, thrash songs. Also, you are not forced to complete every song to unlock the additional tiers, you merely need to gain a required number of stars from all available songs, meaning you can dodge some of the really tricky songs if you prefer not to wrap your hands up in bandages each night.

Some kind of monster…
The documentary style of the Aerosmith game has been ditched in favour of the unlockable movies featuring live performances and behind the scenes footage of the band performing for the motion capture process. Each song also includes lyrics and a "Metallifacts" video, which plays the song and gives you lots of extra information about it, a bit like Pop Up Video (for those of you old enough to remember).
Also included with the game is the Music Studio feature from World Tour, which allows you to create custom tracks which you can play along with yourself or share with the online GH community. It's not an area of the game I'm particularly interested in as I have zero creative potential when it comes to music, but I can see the usefulness of this, even if simply to jam with your friends and try to master some tricky riffs.

Lars' double bass drum is what inspired Expert+ mode
There are now six difficulty levels in the game, ranging from the typical "Beginner" to "Expert" and now featuring the new and mind blowing "Expert +" mode. Inspired by Lars' frenetic double bass abilities and the fact that the drum tracks in the game were just not able to match the source you now have the option to use two pedals with your GH drum kit and try to keep up. Personally, I have difficulty getting up to Hard difficulty, but for those who are more than capable this extra difficulty level will certainly separate the men from the nine year old boys.
So, if you're wondering whether or not to pick up this game, here's my advice. If you like the Guitar Hero games and/or Metallica then you have no reason to doubt that this game is nothing short of awesome. If you dislike one but not the other then it's perhaps worth giving a try, and if you like neither then it's an obvious title to avoid. Despite it not being everyones cup of tea and the recurring opinion that Activision jumped the shark with Aerosmith, I am in no doubt that this is the best of the series and if any future game wants to take that title from Metallica they will have to work extremely hard to best this.
Guitar Hero Metallica gets the maximum score, five flaming picks out of five