Belkin BoostCharge 10W Magnetic Wireless Car Charger Reviewed
Not so long ago we were driving somewhere we weren't familiar with and needed an iPhone car mount for GPS directions in a pinch. Against my better judgement I grabbed a very cheap one from the deepest and darkest recesses of TK Maxx. Not only did it not stay stuck to the window, but the strange sticky adhesive on the suction cup eventually melted into a gooey puddle on the car dashboard. It failed spectacularly, and I consigned it unceremoniously to the bin.
Ever since I've been somewhat skeptical of suction cup car mounts. Sure you might get lucky and find one that stays put, but I wasn't willing to take that chance.
Enter Belkin's

Props to Belkin for putting the charger and power supply in paper wrapping. It's not pretty but it's also not more disposable plastic.

The charger came packed about as unassumingly as it's possible to be packed. It looked like it had been wrapped in whatever paper was to hand, eschewing presentation and showiness for just a little concession to the environment. It's a small touch, but I'm handing out free brownie points to brands who show even the slightest inclination to care about the sustainability of their packaging – you're still not Jabra, Belkin, but it's a start.
Belkin's car charger is of the stick-it-in-your-vent type. In a twist of ironic fate I had avoided these, since I wasn't convinced they would fit in our vents and was even less convinced it would stay put. I was wrong in both cases. The ball-and-socket arrangement that clips the vent attachment to the back of the pad means it can fit both horizontally and vertically. The tight, rubberised grip that forms the clip mechanism takes a little force to push into place and stays put. I suppose it's not as if mobile phones are especially heavy.

Included with the car charger is a generous 1.2m USB type-C to type-C cable and a 20W supply. The cable was long enough to reach from the passenger side lighter socket – which is in an awkward, low-down position on our older Nissan Micra – across to the driver-side central vent. This mounting position is great for at-a-glance GPS directions without obscuring the window.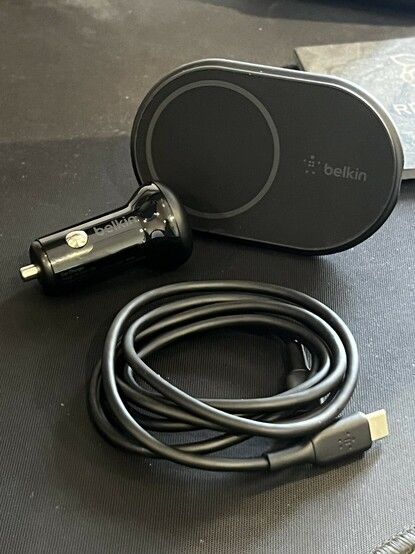 While it's an iPhone-only charger, the C to C cable and 20W, USB Power-Delivery capable car charger mean a friend (or partner) can steal the business end of the cable to charge their Android phone. It won't be wireless, but it wont stop your phone being stuck firmly in place!

A particularly great benefit over magnetic attachment – at least once I eliminate the rigamarole of removing and replacing my iPhone case – is just how easy it is to grab and go. The suction-cup phone mount was an absolute chore, since it had a spring-loaded, jaw-like clip that – when used – would more often than not dislodge the suction cup than clasp the phone. A secondary benefit of grab-and-go ease is drive-through payments. Yeah, we're not immune to the allure of fast food and – trust me – it's an absolute chuffing nuisance wrestling with a spring loaded clip for your phone to make a contactless payment.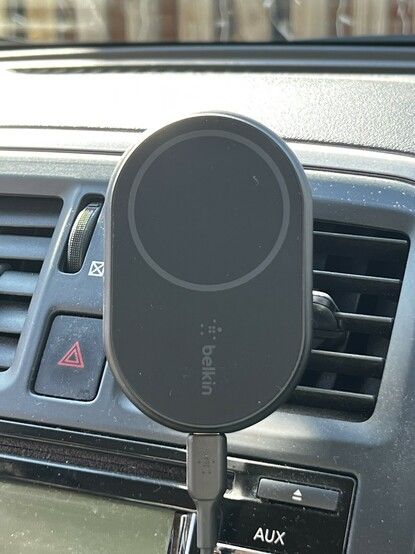 The ball-and-socket style joint between the charging pad and the clip also makes it pretty easy to tilt the phone back and forth from driver's to passenger's side depending on who's charging their phone. It will also swing easily from portrait to landscape mode- but, you're… you're not watching movies in your car, are you?

While Belkin's BoostCharge car charger looks good and does what it's supposed to, there are a couple of minor complaints.

The first- the price. At £45 for the full kit (you can buy it without the lighter-socket-to-USB-C-adapter if you wish) it feels a little steep. Doing the maths, though, and by which I mean adding up the cost of a USB C car charger (about £15) and a wireless charging pad (again, about £15) we're not super far from that £45 asking price. Split the difference at £39.99, eh, Belkin? How 'bout it? Or give us another USB C port to charge a friend?

The second- I can't help but wonder where my other 5W has gone. From the iPhone 13 onwards, wireless charging should hit 15W. You might say "well the BoostCharge car charger is old, Phil, and you're super late to the party with this review" and you would be correct, but I'd be remiss not to point this little, tiny drawback out. Poor Belkin can't seem to catch a break over the wattage of this thing.

Okay, okay. It would also be somewhat reckless to reinvent a perfectly good product for the sake of a little extra charging speed. After all, the purpose of a car charger is usually to keep your battery topped up while Google or Apple maps hammers away at it, and not necessarily to give you a fast, full charge.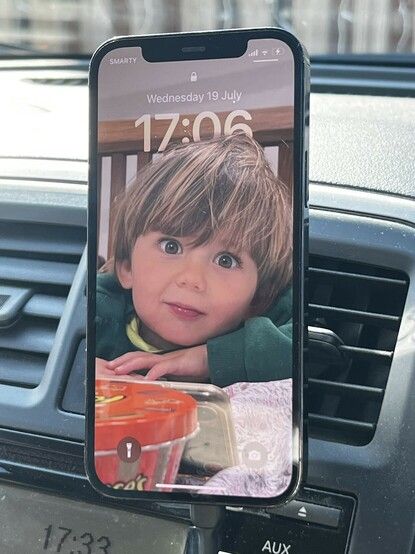 As near as I can tell the Sunday, July 23rd, 2023, Mobile Phones.