FIFA 09 – Xbox 360
Review by Johnus Maximus
Football fans get your consoles ready as the latest instalment of the FIFA Football franchise hit the stores in October, and is jam packed full of clubs, stadiums and playing modes as well as all your favourite players.
Developed by EA Canada and published by EA Sports the game is also available on pretty much everything with a screen – PS3, PS2, PSP, Wii, DS, Nokia NGage and PC. If you only buy one football game this year you certainly can't go wrong with FIFA 09.
You can buy FIFA 09 Xbox 360 for £24.99 delivered or grab it for the PS3 at the same price.
A wise scholar once said that football is a game of two halves, a statement that seems to be reflected in the current offerings for football games. The two clear leaders in this field are EA with their FIFA series and Konami with their Pro Evolution series, both of which have been running for as long as I can remember. I'm not really a big fan of football, but was interested to see if EA could provide as immersive and enjoyable an experience with this game as they did with Tiger Woods 09.
I wasn't disappointed, there are simply so many different game modes available that there's a bit of something to please everyone. Unless of course you hate football, but you probably won't be reading this if you do. The first time you boot up the game it asks you to assess how competent you are at playing football games, and will adjust the difficulty settings accordingly. You really should only select the easiest option if you have absolutely no experience at playing football games otherwise you might find it a bit too easy and get bored. You can always change it later if you need to though.
Once the game begins you are thrown into a practise arena and at your command is Ronaldinho, and you have as much time as you like to mess about, learning how to dribble, pass and shoot at a goalkeeper who'll do his best to keep out your shots. This arena mode also appears when a game is loading, giving you something bit interesting to do while you wait and you can change the player from Ronaldinho to someone else if you prefer.
FIFA 09's menu system follows the same structure as all other EA Sports games, so if you've played any you'll find it quite easy to get around. At the top of the menu are the "play now" options, where you can play a standard game of football, either by picking teams or letting the computer decide for you, or alternatively you can jump right into a "Be a Pro" match, which is one of the new features added to FIFA 09.

Rooney – he's a goal scoring superstar hero
In "Be A Pro" mode, you create a fictional player and determine their physical appearance as well as their strengths and weaknesses on the pitch, then select any club team you would like to play for. You begin your career playing for the reserve squad and after each match has taken place you are awarded experience points for how well you performed in your role.
As well as the usual things like a striker scoring a lot of goals, you are graded on your ability to be correctly positioned on the pitch, how well you create and complete passes and shots, and how well you tackle people. These experience points can be allocated after the game into the many skill areas you were able to choose from when building your player, so if you find you're running out of stamina too early in a game that can be improved, or if your shots are firing wide you can improve accuracy. How your player progresses is ultimately your decision.
If you manage to play well, and keep doing so, you'll eventually get enough recognition that your manager invites you to play for the first team. Do well here and you'll eventually earn captaincy, and in time get asked to play for your national reserves. The final level of success is when you play for and captain the full national squad.
The Be a Pro mode lasts for four football seasons, when I played I chose to play for Morecambe as it's my home town and figured that playing at a lower level of competition would allow me to ease into the game. It was frankly too easy at this skill level, I was playing for England within one season and was able to win games by at least 10 goals each time, earning my player massive amounts of experience.

Proper positioning purports player progression
Before I go on to describe some of the other game modes, I just thought I'd mention that the visuals look absolutely stunning in this game and completely of the standard you'd expect for this generation of consoles. The players movements evoke a feeling of realism, and they look like their real-life versions, as do the pitches and stadiums which have been included in the game, including the new Wembley.
The audio in the game is also to a high standard, the crowds sound like crowds, footballs being kicked sound like footballs being kicked and whistles sound just like whistles. There's a reasonable selection of songs that are played in the menus as well as at the half time and full time intervals, from artists like Hot Chip and Sam Sparro. The commentary track provided by Andy Gray and Martin Tyler is probably the only area that the audio suffers, there seems to be a limited amount of dialog scripted and recorded, so it didn't take long before I switched them off, there's only so many football clichés you can listen to in a day.
Another playing mode is the Manager mode, which allows you to take control of any of the selected teams and try to guide them to victory season by season. You have full access to all the formations, team tactics, experience point distribution menus, as well as being able to determine the cost of tickets to your games, the amount of money spent on training, stadium development, player transfers and so much more.
The games play in the traditional manner, you're in control of all the players with the exception of the goalkeeper. If you're the sort of person that likes the management simulation elements but are not that fussed about playing the actual games you can opt to simulate all the actual football and just deal with the team management.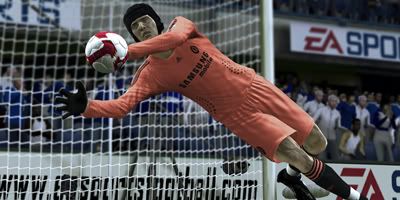 "If that had have gone in, it would have been a goal"
A Tournament mode is available, where you can either choose to play one of footballs real tournaments, such as the FA Cup and the Premier League, or also opt to create your own. Set the number of teams, the type of rules, what stadium to play the final in and of course what the tournament prize looks like. It's a lot of fun when playing with your friends to win the coveted "Vimto Mug".
Another new feature added to FIFA 09 is the Adidas sponsored "Live Season" which aims to offer real-time updates to player forms. As well as automatically keeping rosters up to date with transfers, this feature also keeps the stats behind each player adjusted according to their performance in real life. When you purchase the game you are given one free league to choose from a list of six, and if you want to have the remaining five leagues updated you'll have to fork out a download cost of around £5 per league. Only for the extreme football fan methinks.
If you're looking to play a spot of couch co-op, FIFA 09 allows you and up to three friends to play the standard exhibition mode, Tournaments, Manager Mode and also the Lounge Mode. This interestingly titled mode differs from normal as it is geared around an arcade style experience, making it easier for casual gamers to get into and enjoy the game. There are wildcards you can use to give each team special benefits, which means that seasoned football game players won't always have the upper hand.
On those occasions where you have no-one to play with you can always take the game onto Xbox Live, which like the offline experience is absolutely chock full of features, so whether you jump on infrequently or are on everyday there's a game mode just for you. You can play the standard exhibition style matches with friends, or join a lobby to find a game with someone you don't know and you can choose to play ranked or unranked games.

A range of goal celebrations are on offer, including "the hug"
Other modes available on Xbox Live are the Be A Pro, where you'll be playing alongside a whole team of people, all of you controlling just one footballer and team tactics and good organisation are key to winning. You can search for and take part in any online leagues that find, or create your own and make it exclusive by setting up a password, if you're a member of a community forum then this is a great way to get everyone together.
Also on Xbox Live there are community built custom tactics and formations that you can download and use, or if you think you can do better, upload some yourself! I didn't really get that far into exploring them as this kind of stuff goes way beyond my basic footballing knowledge, but one thing I did manage to try out was uploading an instant replay of a great goal I scored. It's this sort of community orientated content that really enhances the online aspect of the game.
Well that about rounds up my experience with FIFA 09 and I have to admit it definitely lived up to the hype I'd heard about it. For someone with a very small interest in football, I found myself enjoying this game for many hours at a time, the matches are so fluid and the AI really works well. It's a lot of fun playing both by yourself and with friends, and like I said at the beginning, if you're going to buy one football game this year you definitely won't go wrong with FIFA 09. It might even sway the hardiest PES fanboy!
FIFA 09 scores 4 and a half golden balls out of 5.