OWC Travel Dock E Reviewed
If you were to ask me for a spur of the moment dock recommendation, I'd probably suggest something from OWC. In something like seven years they've been a solid go-to for my multi-monitor workstation setups, and their Thunderbolt 3 Dock is a crucial part of my office setup.
So taking OWC out on the go seems like a reasonable idea. Enter the USB-C Travel Dock E. The Dock E replaces almost all of the ports you might feel are missing from your MacBook Air. The notable exception of a microSD slot is a little disappointing – I almost never use full-sized SD cards these days – but there's still a full-sized fast, SD 4.0 slot aimed at users who want to ingest photos and videos from their cameras.
Joining the SD slot come two USB Type-A 3.2 (Gen 1) ports for legacy peripherals, a gigabit Ethernet port, HDMI and an upstream USB Type-C connector for pass-through charging up to 92W.
In my tests both the M2 MacBook Air and StarLite MK4 were happy charging via the dock from a good, 120W Anker "GaNPrime" power supply. With a 45W charger (the one from my Steam Deck, in fact) the StarLite would not charge via Travel Dock E, but the MacBook Air was happy. Since you'll be bringing your own power supply, make sure you've got a good supply, a laptop that's happy to share or you're willing to spring for an upgrade.
Travel Dock E is a pigtail dock with a short, attached USB Type-C cable that stows neatly underneath it. I'm not a huge fan of pigtail docks, preferring a separate Type-C cable that I can change (for a longer cable), re-use or stow separately. That said, I'm a geek with a C to C cable always within reach. If this is your one dock and one cable you'll appreciate them being inseparable and, by extension, the fact you can't misplace or lose the cable.
OWC's choice of a recess in the bottom of the dock to stow the cable is a bold one. It adds about 1cm of extra thickness to what is already one of the chunkiest docks I've tested. It also places a hard limit on the length of the cable, which is not replaceable. If you're planning to put your laptop on a riser or stand then you'll almost certainly find this on the short side. It's just enough to tuck the dock behind a MacBook Air when it's flat on a desk. If you're a left-handed mouse user (I should be, but somehow avoided it!) it shouldn't cause you any trouble. There's a generous finger recess in the bottom of the dock, making the stowed cable easy to retrieve, though there is a knack to stowing the connector which has to be tucked under a little ridge before the rest of the cable can follow.
The bulky size says this is very clearly a mini dock and not simply a multiport adapter or a USB Type-C hub. Yes the distinction is muddy, but the Travel Dock E's visual design is very reminiscent of OWCs larger desktop docks. The aluminium construction also makes it rather heavy. This is less ideal for portability, but excellent for keeping the dock firmly rooted upon your desk during use. To really cement the this-is-supposed-to-sit-on-your-desk-for-a-while aesthetic, OWC have put rubber feet on the bottom. The result of all these choices is a robust, professional feeling dock that provides a good selection of IO for hot-desking or on the go desktop use. The heavier, bulkier design is less ideal for non-desk use- I know I lounge on the sofa or in bed with a laptop, and I wouldn't be comfortable having this heavier dock dangling out of a port.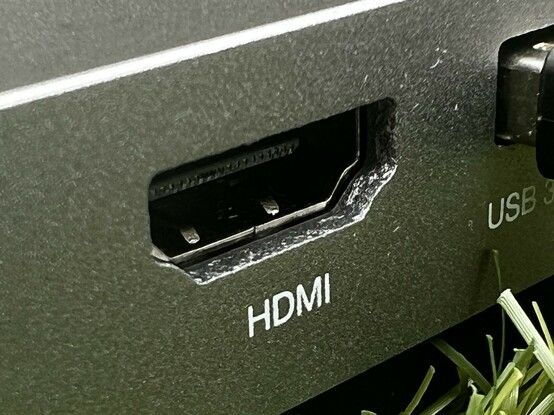 The aluminium construction – the router layer is just over 1mm thick – might add to the heft, but it also makes this dock very, very sturdy. There's no give or twist in the case at all. I'd vote this "dock most likely to survive an orbital drop."
If you travel often between desks and need a full-featured dock – Ethernet may be especially useful – then OWC's Travel Dock E is worth considering. If you're more of a lounge-around-the-house type, or simply like to travel very light then there are definitely lighter options- though thinner docks usually sacrifice the Ethernet port in the quest for portability.