Plugable UD-6950PDZ Triple Display USB Type-C Dock
Not long after I tested the Belkin Triple Display USB Type-C dock, I cast it aside and swapped in the near-identical Plugable UD-6950PDZ. It has roughly the same port layout – with minor differences – and the same incredible 4K DisplayLink technology to connect three monitors to even the most stubborn (I'm looking at you, MacBook) laptops.
Since then I've been daily driving the UD-6950PDZ exclusively on my Linux workhorse laptop (running Pop!_OS 22.04 LTS), with two 4K screens connected via the DisplayLink-enabled ports. It has been absolutely rock solid.
With the bandwidth afforded it by USB Type-C, DisplayLink has gone from a barely usable mess with visible encoding artefacts and no hope of playing video, to something that I simply cannot tell apart from a normal DisplayPort or HDMI connection. Well, as long as I don't look at what processes are hogging my CPU anyway.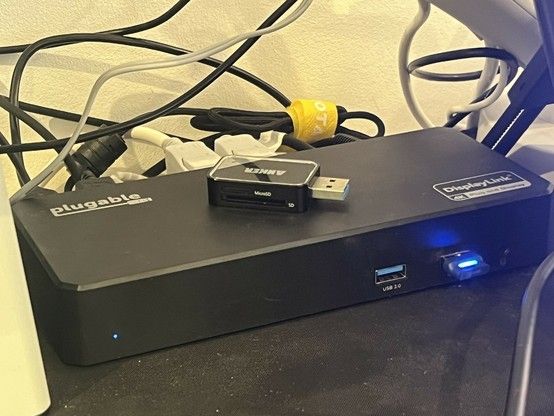 But nothing I can say about DisplayLink carries the same weight as the confidence with which Plugable delivers it. Below the three sets of ports – pairs of HDMI and DisplayLink respectively – in the back of the dock, there is no labelling to distinguish between the DisplayLink and regular USB Type-C alt-mode connections. If you're connecting three displays, and can't tell the difference anyway, why would you care? I mean, sure, there are cases where you might care and some disambiguation would have been appreciated- for example, firing up with no drivers
Since the Plugable UD-6950PDZ has more or less the same features as the Belkin, it's hard to find a groove to talk excitedly about it. Maybe that's a good thing. Technology you don't notice and don't feel passionately about is, perhaps, the most ubiquitous and effecting part of the digital miasma we inhabit. It's refreshing to have something that Just Works, and which I need not think about.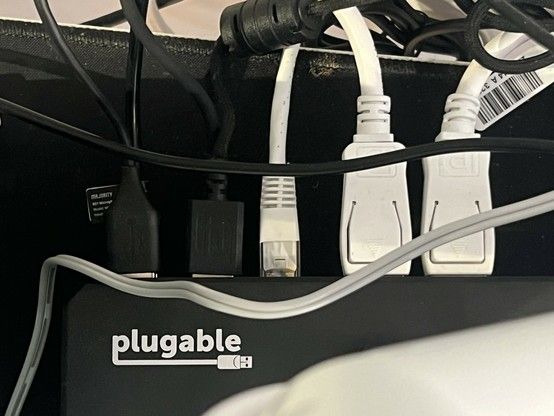 Plugable have made some different choices, though, with respect to their selection of ports. They have opted for a full complement of six USB Type-A – all USB 3.0 – with no downstream USB Type-C port for phone charging or Type-C devices. It's a bold choice, but not necessarily a foolish one. At time of writing I'm using every single port on the dock and two out of the three ports on my laptop itself and, even with the continued adoption of USB Type-C, not one single device needs a USB Type-C connection. Well- the Poly Studio P15 (webcam, speaker, microphone all-in-one) came with a USB Type-C to C cable, but I just swapped with whatever USB Type-C to Type-A I had handy and it works just fine. Plugable recognise that you've probably got at least one Type-C port on your laptop anyway, and putting one downstream on the dock doesn't really help- since all the bandwidth you'd normally expect from a Type-C port is eaten by DisplayLink.
Another minor but welcome difference is the HDMI/DisplayPort pairs arrayed along the back of the dock. The regular port has both HDMI and DisplayPort options, just like its DisplayLink counterparts, rather than one or the other. Good news for those of us who prefer DisplayPort's locking connectors.
Finally, and yes this really does matter to me, the top of Plugable's Triple Display USB Type-C Dock is flat. Level. The perfect place to leave my USB microSD card reader… which I need because- like Belkin's dock- this one lacks microSD or SD card slots. I think I would have happily traded a port for those!
Overall Plugable's UD-6950PDZ Triple Display USB Type-C Dock (gosh that's a mouthful) is another dock in a line of docks that has been so robust, so reliable and so good that it's taken me three months to remember I'm supposed to write about it. It brings together a solid set of features in a relatively clean – Plugable have a thing for gloss black plastic that I really don't share – matte black plastic enclosure with a nice chamfer around the edges and an unobtrusive pin-prick power LED.ct
If you've found yourself (I'm looking at you again, MacBook Air) in a situation where normal multi-display docks or MST hubs won't save you from a single monitor fate, Plugable might be the answer- at just a shade under the cost of Belkin's offering, and with a no-expense-spared full complement of HDMI/DisplayPort ports it's a clear winner.